The top 6 interior design trends of 2022
With the year quickly coming to an end (can you believe it's already November?), we are getting in early with a recap of the top interior design trends of 2022.
Whether you use them as inspiration for a little home renovation as we sway into the festive season, or even as a gift guide for the interior design-loving people in your life, here are all the looks we have loved over the last 10 months. 
The top interior design trend for 2022 was… 
It may be a big call, but based on all the projects we've worked on over the last 10 months, the "classic yet contemporary" approach to home decor came out on top when considering the hottest interior design trends this year. 
As the name suggests this trend is based on combining the best of both traditional aesthetics with more modern looks for a mix that's decidedly 2022. At BOWERBIRD Interiors, our stylists love this approach because it gives them the creative liberty to curate unique living spaces that reflect the values of the person who calls it home – without being restricted by the rules and regulations of a specific era. 
For those interested in experimenting with the classic yet contemporary trend and creating a look that is cohesive instead of chaotic, it's important to start with spatial planning – to ensure your room flows.

Other tips include deciding on a dominant style (to create a sense of balance instead of looks competing for attention), choosing a neutral colour palette that highlights the features of a room without overwhelming the space, and being confident in combining your favourite furnishings.
Some examples? A vintage dresser with a modern painting hung above it, a fresh throw perched atop a retro lounge and a contemporary lamp set on an antique desk. 
Abstract art
From line drawing to splatter paint, our stylists have (almost never) never met an artwork they didn't like. But there is unanimous agreement that they absolutely adore abstract art – which is emerging as one of the top interior design trends of 2022. 
Defined as work that 'doesn't use recognisable depictions of physical objects, [but] instead uses colours, lines, and shapes to express its message,' some of our favourite examples of using abstract art to decorate a home include incorporating three-dimensional pieces over traditional prints.
Try it yourself by investing in plaster painting, wall sculptures and even light installations for the ultimate on-trend home decor hack.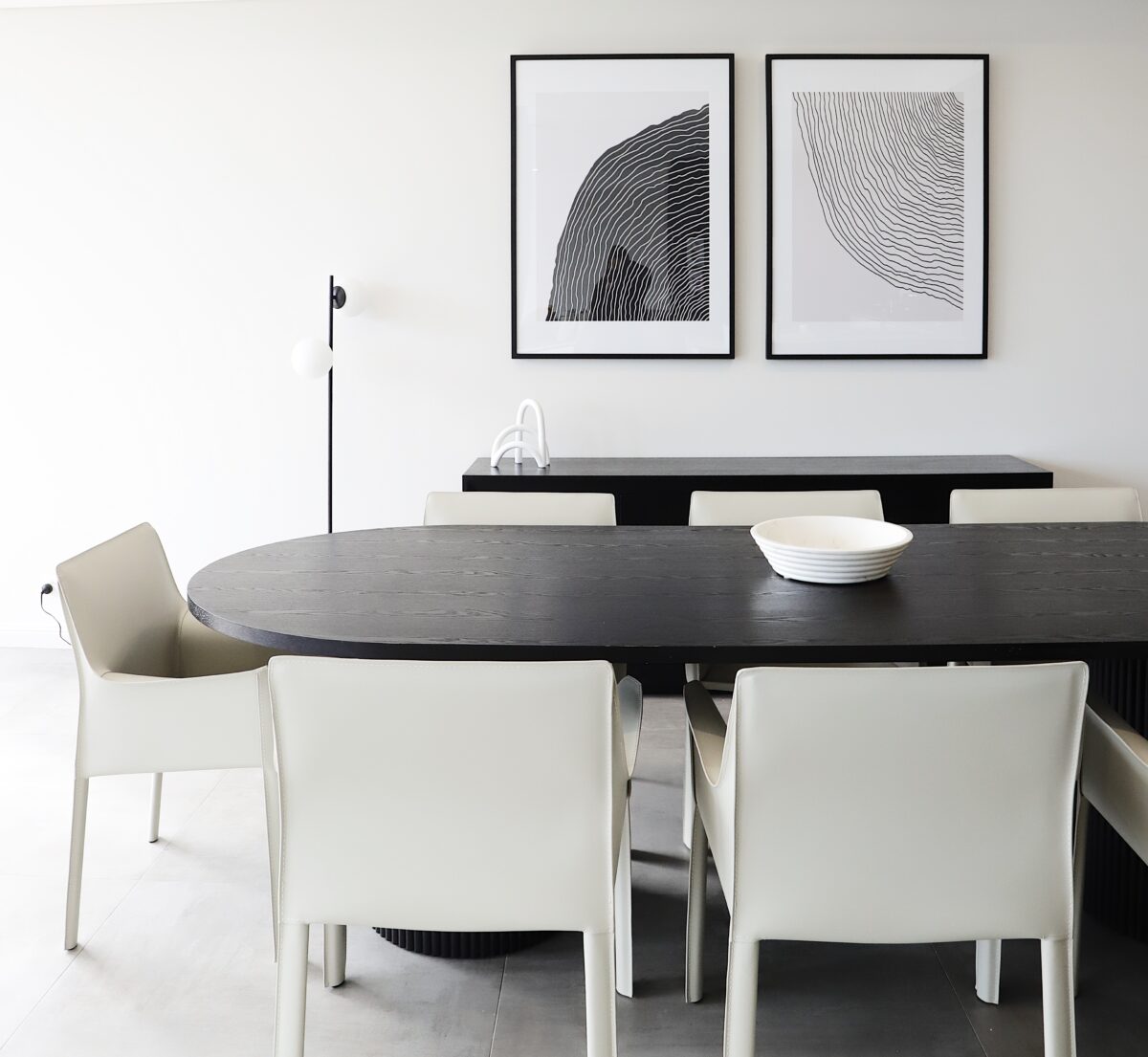 Bouclé
Texture continues to position itself as one of the top interior design trends of 2022. And for the last 10 months, one of its biggest stars has been bouclé. 
Alongside classic textured fabrics that our stylists love incorporating into their design projects (such as wool, leather and velvet), this fleecy woven yarn has been touted as the textile of the moment for its ability to bring warmth to a space and soften the lines of contemporary architecture. 
Experiment by adding a bit of bouclé to your home in the form of an accent chair, pillow or even an ottoman – which all bring visual interest to a room in one of the cosiest ways possible.
Minimal Mediterranean 
While traditional baroque Mediterranean style has a tendency to be marked by its flamboyant maximalism, a more modern approach to home decor this year has seen designers embrace the minimalist Med aesthetic. 
Among the easiest decor ideas for transforming your home into a sun-drenched European oasis are those inspired by the sandy beaches of Spain, the shores of Italy's Almafi coast and the islands of Greece. These include open spaces and bright rooms, indoor plants, crisp white marble and the use of natural materials, such as rattan, wood and stone.
And all things organic 
Inspired by this Mod-Med look, a similarly organic movement to earthy-inspired home decor also arose as one of the top interior design trends of the year. This was manifested in furniture with neutral tones (running from sands, nudes and mustards to browns, khaki and rust tones), natural stones (with travertine replacing traditional Carrara marble as the preferred finishing) and lots of wood – oak, timber and walnut. 
Pretty in pastel

Finally, pretty pinks, lovely lilacs and mellow shades of mint emerged as some of the top interior design trends of 2022. For a little inspiration on how to make these toddler-esque tones adult-approved, check out our Timeless Dream project. 
Contact our team to find out how you can incorporate these trends in your interiors. Our Interior Design service could be the perfect solution, as we can create a customised furniture package and curate a bespoke look for your home.
Get new articles weekly, straight to your inbox.
Stay up to date on exciting projects from the BOWERBIRD family.