How to style your living room… three ways
A living room has so much potential for beautiful styling, whether it's a complete revamp or a chic shake up. However it's imperative to find the perfect combination of style, comfort and practicality.  Even a few simple changes can maximise space and light and transform one of the most lived in rooms in your home.
Here we explain how to achieve all of this, in three distinctly different ways.
CONTEMPORARY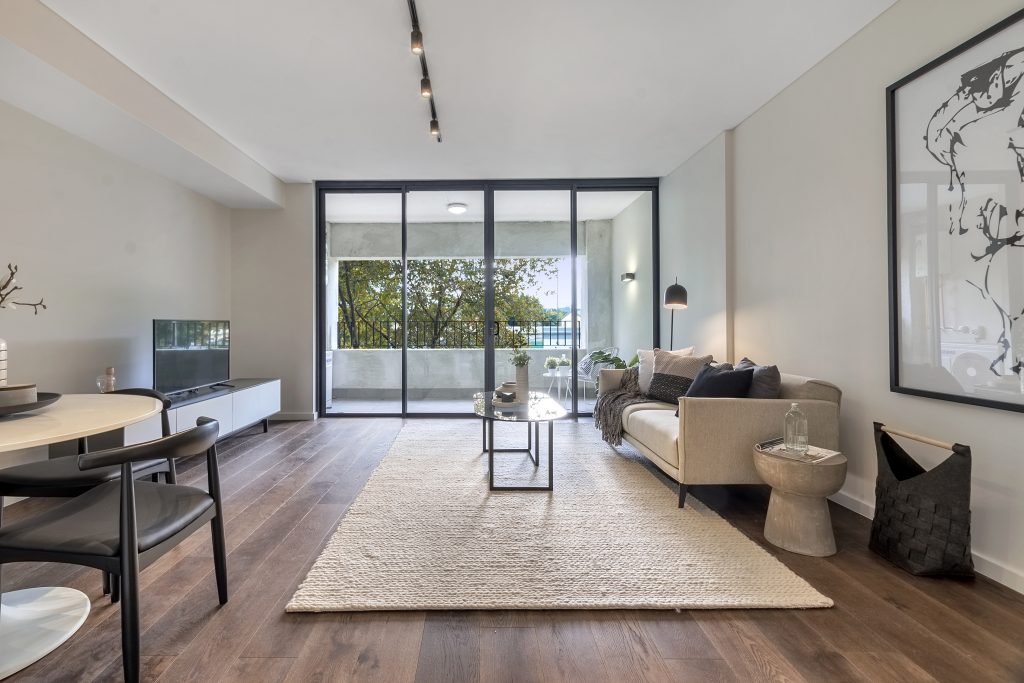 Spatial planning is one of the most important elements of a living room. Your sofa is a fundamental piece that dictates your innate style, so buy furniture that represents you – just keep an eye on proportions. Contemporary living rooms draw on techniques of modern architecture so choose a sofa with sleek lines and a low profile that will combine well with open space. The challenge is to create a harmonious minimalist living room that exudes a warm ambience. Restraint is imperative, so avoid clutter. "Quiet" spaces will accentuate styled spaces.
There are many ways to incorporate colour into your living room. The trick with contemporary interiors is to balance bright colours in artwork and accessories with strong neutral paint colours for a look that's vibrant but not overpowering.
The coffee table is a central piece in any living area, so it's a great idea to style it in an appealing, but uncontrived way. Focus on size and stick to the motto, less is more. A vignette may include large hard cover books (architectural or travel related), magazines, and a favourite candle.
A rug really anchors the space and creates distinct zones. Regardless of your style the main rule is be generous with the size and scale according to the room. However in a contemporary interior, exposed flooring is a strong feature and it's popular to showcase floorboards or large scale tiles. However to create an interesting and stylish layer, consider commercial grade rugs. Add colour and texture with plain or geometric-patterned area rugs.
Lighting should create a soft ambience in the living area. Avoid task lighting and focus more on layered lighting. Ideally lamps should be placed either, next to, between or behind sofas. A statement floor lamp can make a strong impact in a contemporary interior so consider an industrial style that has presence.
LUXURY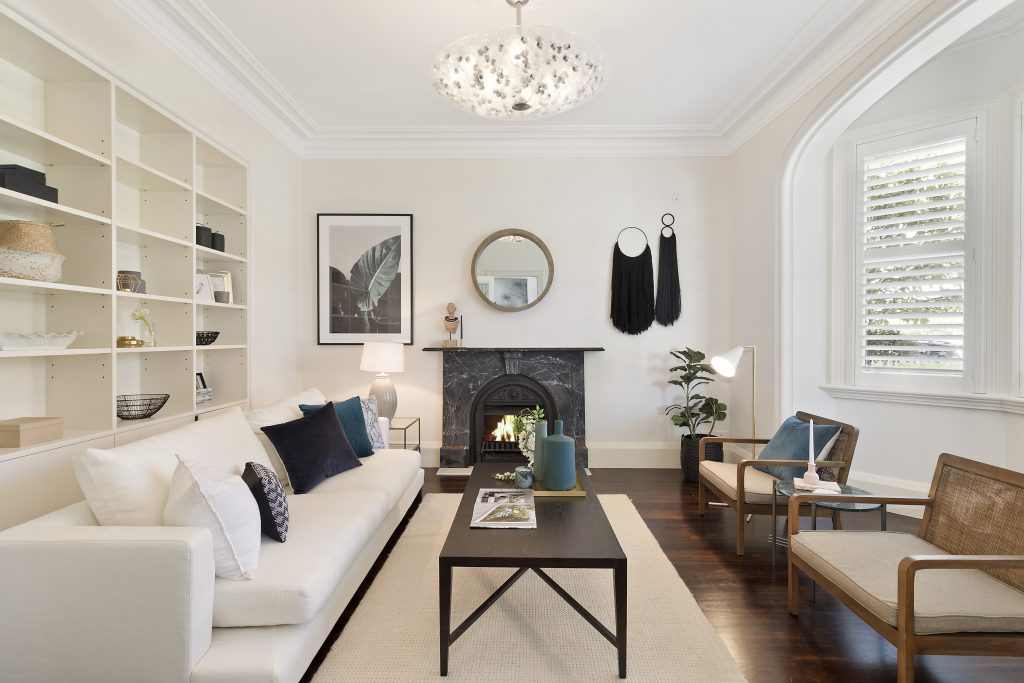 A refined and high end aesthetic can still be comfortable while styling a luxury interior. Plush sofas and armchairs dictate the feel and tone of your room and the scheme will introduce texture to a neutral palette. Think leather, sisal, linen and other natural materials. Texture can also be found in artwork and lighting, so consider the overall aesthetic when styling. Luxury living room designs are not all about extravagance; there is more beauty in simplicity so a monochrome scheme can prove a powerful combination.
When in doubt choose dual accents for a glamorous feel and a balanced look. Side tables, or butlers tray tables are chic and convenient when placed on either side of the sofa and matching lamps can provide a relaxed ambience. A vase of fresh flowers add luxury– go for width not height, so they don't overwhelm the space. Artwork is just as important as furniture to convey personality and since trends are transient choose art that you love. Proportion, colour and texture can be referenced for styling. A major art piece will provide a luxurious effect.
While plants can be favoured for their natural beauty, they also provide a calming ambience and a fresh feeling in any living room space. Varieties such as the Fiddle leaf Fig, Banana Tree and the easy to care for Rubber Tree Plant have a combination of volume and sculpture, adding contrast to an interior. A refreshing approach would be to layer plants in different size pots.
CLASSIC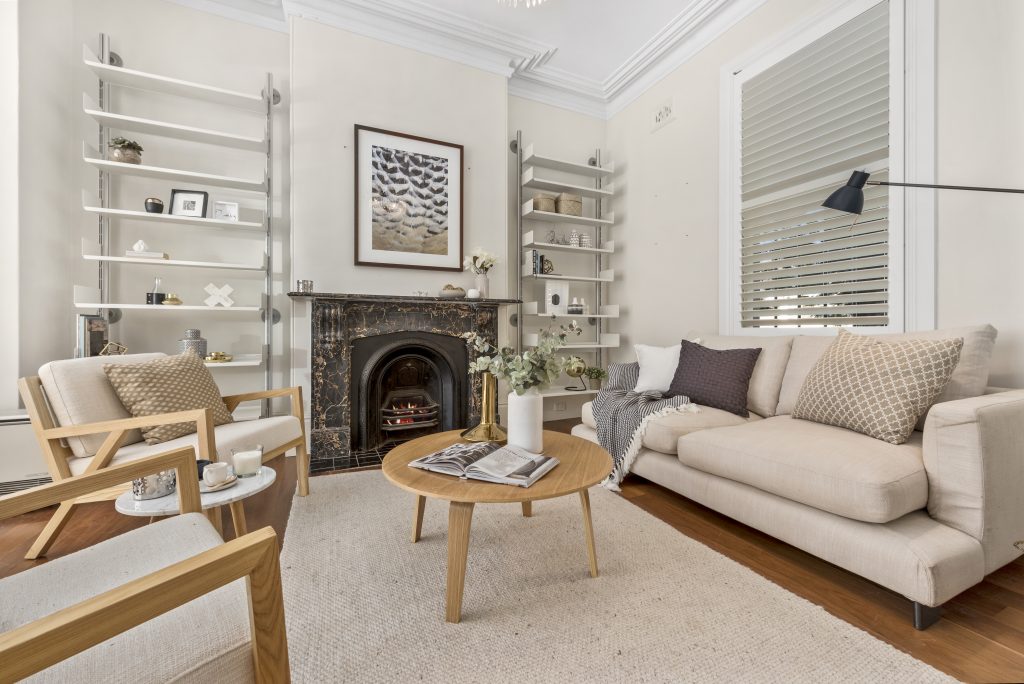 A classic living room is often spacious with abundant light so position your couch under an oversized window to allow the light and outdoors to be the focal point of an otherwise neutral room. Leather sofas add character and will age and patina beautifully over time, while eclectic furniture can accentuate the period details without constraint. A space saving secret is to choose a few full-size furniture pieces instead of cramming in lots of smaller ones. The living room will feel larger, and you won't compromise on style or comfort. A classically styled interior may include subtle muted tones in scatter cushions and throws.
A nest of marble or oak tables can provide style and practicality. They are on trend, a great space saver and also minimize spillages!  Coffee table styling could also include a few special decorative items or collectables from your travels. Rotating your accessories every few weeks provides a fresh perspective, so don't feel the need to display everything at once! Think creatively and set up your bar cart as an end table which will provide functionality. Styling could include a decanter and crystal whisky glasses or wine glasses. Add a colourful indoor plant and some statement candleholders to complete the look. For a modern classic aesthetic get creative with an eclectic gallery style wall. For a cohesive look, work with a theme such as all black frames. Alternatively a mix of frames adds individual style.
Want more styling advice?
Subscribe to the newsletter for weekly blogs straight to your inbox.