My Granny's Chicken & Leek pie recipe, to warm up your soul
As we head into the cooler months, there's nothing like soul food to warm the cockles of our hearts (my cherished Granny would say). I learnt the art of pie making from my grandmother when I was young, some very happy memories there. One of the secrets she shared with me was the art of making my own pastry, it makes the pie so much tastier when you can soak all the flavours from the filling. I will confess, I have adapted it over the years to suit seasonal produce, to match the weather. It's still my favourite dish to bring family and friends together, to share stories and enjoy every delicious bite. So here it goes, from my family with love!
Bim X
National Design Manager
Chicken and Leek Pie recipe
PASTRY 
Ingredients
250g plain flour

125g butter, diced, and kept cool in the fridge

1-3 tbsp milk or water

pinch salt
Method
Sift the plain flour into a large bowl or the largest bowl of a food processor. Add the diced butter and either rub it in with your fingertips or, if using a food processor, pulse until the mixture resembles fine breadcrumbs. Add the salt and mix again. 

Gradually add the liquid by starting with 1 tbsp of milk or water, then adding a little more until the mixture comes together to form a dough. 

Tip the mixture onto a surface and gently knead and bring it together with your hands, then shape it into a disc.

Wrap in cling film and chill for at least 20 minutes before using.
PIE FILLING
Ingredients
2 cups (500ml) chicken stock – I make this from scratch for extra flavour and richness.

750 grams of chicken breast fillets, trimmed

60 grams butter

1 (500g) leek, thinly sliced – I use all white and some green

2 (300g) stalks celery, trimmed, finely chopped

2 tbsp plain flour

2 tbsp fresh thyme leaves (plus extra to serve)

You can also add a little fresh tarragon and parsley to taste

1/2 cup (125ml) milk

1 cup (250ml) pouring cream

2 tsp wholegrain mustard

1 Egg yolk or milk for brushing the pastry
Method
Bring stock to the boil in a medium saucepan over high heat. Add chicken; return to the boil. Reduce heat and simmer, covered, for about 10 minutes or until chicken is cooked. Remove chicken and chop coarsely. Reserve 1 cup of the poaching liquid.

In a medium saucepan, heat the butter; cook down the celery and leek and keep stirring, until leek softens and becomes slightly translucent. Add herbs and flour and cook, stirring for 1 minute. Gradually stir in reserved poaching liquid, milk and cream; cook, stirring, until the mixture boils and thickens. Stir in chicken and mustard, and season to taste. Then cool.

Preheat the oven to 220°C (200°C fan-forced). Grease a 1-litre (4-cup) pie tin/dish with a rim. Knead (homemade) roll into a consistent thickness – around 0.3-0.5 cm to fill the base of the pie tin or if you are using puff pastry from the freezer place out and cut to shape and lay it into the pie tin. Also, roll out or cut a lid for the top of the pie. I like to decorate this with leaves or something relevant to that time of year.




Spoon filling into dish; roll out remaining pastry to fit pie tin. Place over filling. Press edges to seal and trim. Brush the pastry with egg yolk or milk and cut a couple of small slits in the top with a sharp knife or poke with a fork. I add a little decoration on top. Bake for 25-30 minutes or until browned and you can hear the filling bubbling. I turn it halfway to ensure it cooks evenly.
 Serve with seasonal vegetables
I hope you've enjoyed learning about my Granny's Chicken and Leek Pie recipe – it's a perfect dish for a cosy night in or a special occasion with loved ones. Don't be afraid of making your own pastry – with a bit of practice, you'll soon be a pro. Happy cooking!
PS- If you missed last week's Peanut Protein Goodness recipe, you can find it here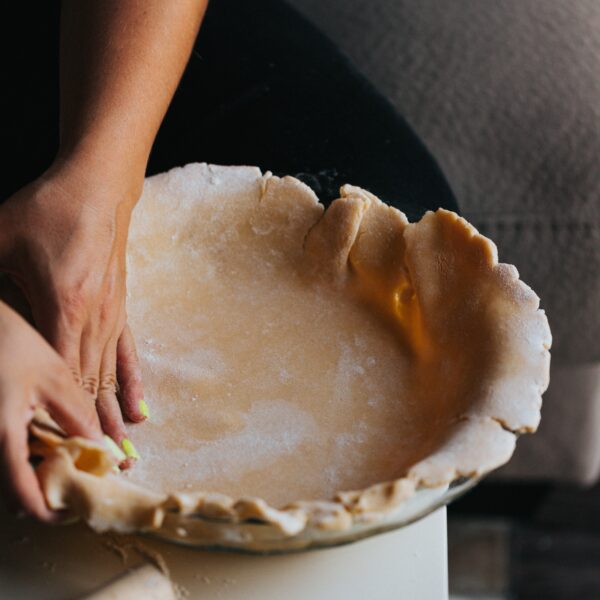 Get new articles weekly, straight to your inbox.
Stay up to date on exciting projects from the BOWERBIRD family.