Delicious Recipe for a Peach and Blackberry Tart!
We're going to start by preparing a buttery pie crust, then fill it with a luscious fruit mixture. Bake until golden brown, and serve warm with a scoop of vanilla ice cream for the ultimate treat. Enjoy a taste of summer all year round with this easy-to-follow tart recipe!
Ok, here we go… steps away from deliciousness!
Ingredients for the Tart Crust:
2 1/2 cups all-purpose flour
1 teaspoon salt
1 cup (2 sticks) unsalted butter, cold and cut into small cubes
6-8 tablespoons ice water
For the Filling:
4 cups fresh or frozen peaches, peeled, pitted, and sliced
2 cups fresh blackberries
1 cup granulated sugar
1/4 cup cornstarch
1 teaspoon lemon juice
1/2 teaspoon ground cinnamon
1/4 teaspoon almond extract (optional)
For Assembly:
1 egg (for egg wash)
1 tablespoon milk or water (for egg wash)
Additional sugar for sprinkling
Instructions:
Prepare the Pie Crust:
In a large bowl, combine the flour and salt.
Add the cold butter cubes and use a pastry cutter or your fingertips to work the butter into the flour until the mixture resembles coarse crumbs.
Gradually add ice water, one tablespoon at a time, until the dough comes together. Be careful not to overmix.
Divide the dough in half, shape each half into a disk, wrap in plastic wrap, and refrigerate for at least 30 minutes.
Prepare the Filling:
In a large mixing bowl, combine the sliced peaches, blackberries, granulated sugar, cornstarch, lemon juice, ground cinnamon, and almond extract (if using). Toss until the fruit is well coated. Set aside.
Preheat the Oven:
Preheat your oven to 190°C.
Roll Out the Tart Crust: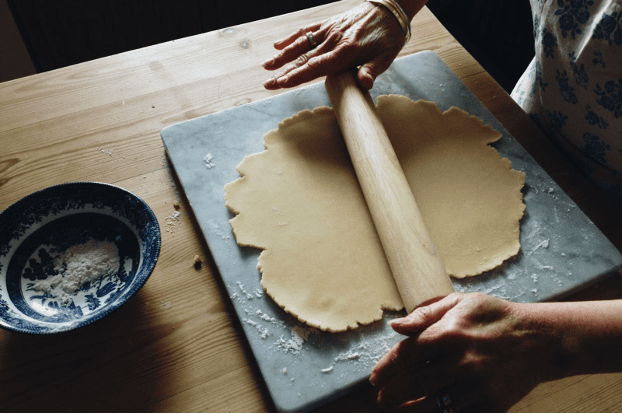 On a floured surface, roll out one of the chilled pie crust disks into a circle large enough to fit a 9-inch pie dish. Carefully transfer the rolled crust to the tart dish.
Add the Filling:
Pour the peach and blackberry filling into the prepared tart crust, and then slowly fold the tart crust until your filling is comfortably all tucked in!
Egg Wash and Sugar:
In a small bowl, beat the egg with 1 tablespoon of milk or water to make an egg wash. Brush the top crust with the egg wash and sprinkle with sugar for a golden, crispy finish.
Bake:
Place the tart on a baking sheet to catch any drips and bake in the preheated oven for 45-55 minutes, or until the crust is golden brown and the filling is bubbling.
Cool and Serve:
Allow the tart to cool for at least an hour before serving. This allows the filling to set. Serve with a scoop of vanilla ice cream if you want to fall into a deep heaven! 
Enjoy your homemade Peach and Blackberry Pie!
Get new articles weekly, straight to your inbox.
Stay up to date on exciting projects from the BOWERBIRD family.