Family feel-good wet weather recipe
Here's the thing, often we're racing home in the afternoon trying to rack our brains with what to make our starving family, who you envision are all banging on the door, waiting for your arrival, you walk in, expecting a big embrace, and the first thing they say to you is "What's for dinner?!"… The anxiety, the thoughts racing through your brain, what on earth am I going to make, and in a hot second?!… Well, here's a treat from me to you…one of my favourite wholesome quick recipes that my whole family loves. 
Hope you enjoy it, 
Tara x
BOWERBIRD Interiors – Head of Marketing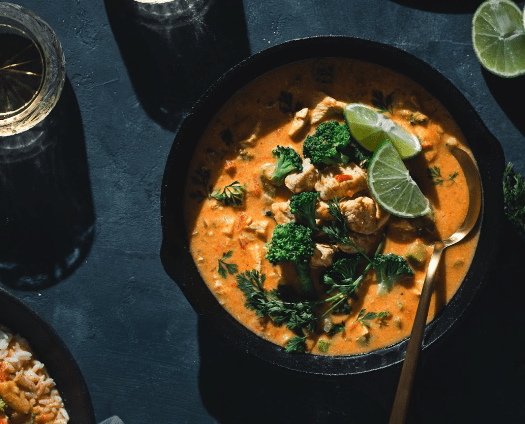 Peanut Butter and Sweet Potato Spinach Curry Recipe
Ingredients:
1 large sweet potato, peeled and cubed

1 tablespoon olive oil

1 onion, chopped

2 garlic cloves, minced

2 tablespoons red curry paste (use half of this if it's for kiddies as well)

1 tablespoon curry powder (And again, use half of this if it's for little mouths)

1/2 teaspoon ground ginger

1/2 teaspoon ground cinnamon

1/2 teaspoon salt

1/4 teaspoon black pepper

1 cup vegetable broth (I use the Nutra organics brand!)

1/2 cup peanut butter (I use mayvers, but you do whatever floats your boat!)

1 can (400 grams) diced tomatoes, undrained

4 cups fresh spinach

cooked rice, for serving
Directions:
In a medium pot, cover the sweet potato cubes with water and bring to a boil. Cook for 8-10 minutes, or until the sweet potatoes are soft. Drain and set aside.

In a large skillet or wok, heat the olive oil over medium-high heat.

Add the chopped onion and cook until softened about 3-4 minutes.

Add the minced garlic and cook for an additional minute, until fragrant.

Stir in the red curry paste, curry powder, ground ginger, ground cinnamon, salt, and black pepper. Cook for 1-2 minutes, stirring constantly.

Pour in the vegetable broth and stir to combine.

Add the peanut butter and diced tomatoes with their juices, and stir until the peanut butter is melted and the mixture is smooth.

Add the cooked sweet potatoes and stir to combine.

Add the fresh spinach and cook until wilted, about 2-3 minutes.

Serve the Peanut Butter and Sweet Potato Spinach Curry hot overcooked rice.
This recipe is perfect for families looking for a flavourful and nutritious meal. The peanut butter and sweet potato add sweetness and richness to the curry, while the spinach provides a healthy dose of vitamins and minerals. If you feel you need to add a bit of protein to the mix, throw in some chicken thighs also! 
TIP – If this amount of time required feels like a stretch, throw it all into the slow cooker in the morning before work and walk away, come home, and TaaaDaaaa… piece of cake!
Get new articles weekly, straight to your inbox.
Stay up to date on exciting projects from the BOWERBIRD family.