Hosting a celebration this Christmas? Here's how to make it stylish
Forget tacky tinsel and cookie-cutter cliches. We've made a list (and checked it twice) to come up with these stylish Christmas decorating tips – delivering a tasteful take on the festive season. 
Reconsider your colour combos
Inspired by Santa suits and the pine trees that are synonymous with the season, red and green are a classic Chrissy combination for a reason. But, if you're seeking a more stylish seasonal decorating tip, our suggestion is to swap them out for slightly more subtle – yet equally striking – tones.

Our stylists are currently crushing on a simple yet sophisticated colour palette of elegant black, white, sage, olive and crystal – brought to life through luxe pearl garlands, opulent textured fabrics – like cashmere stockings hung by the fireplace, sparkly baubles and bold decorations. 
If you're not quite ready to break up with your traditional hues, opt for a richer ruby instead of a bright red tomato tone. Teamed with contrasting neutral decor, it also makes for an instantly elegant aesthetic.

Instead of tinsel, turn to nature 
We're not going to be The Grinch Who Stole Christmas and tell you to take down your tinsel completely! However, if you're looking for a stylish Christmas decorating tip (that doesn't leave a stream of glitter in its trail) our interior designers have a few suggestions. 
Look to strands of delicate foliage (such as olive branches, cedar garland and eucalyptus leaves), soft hessian and woven raffia. Wound around the places you might traditionally find tinsel, such as your staircase, the look is a lovely modern interpretation of classic Christmas decor.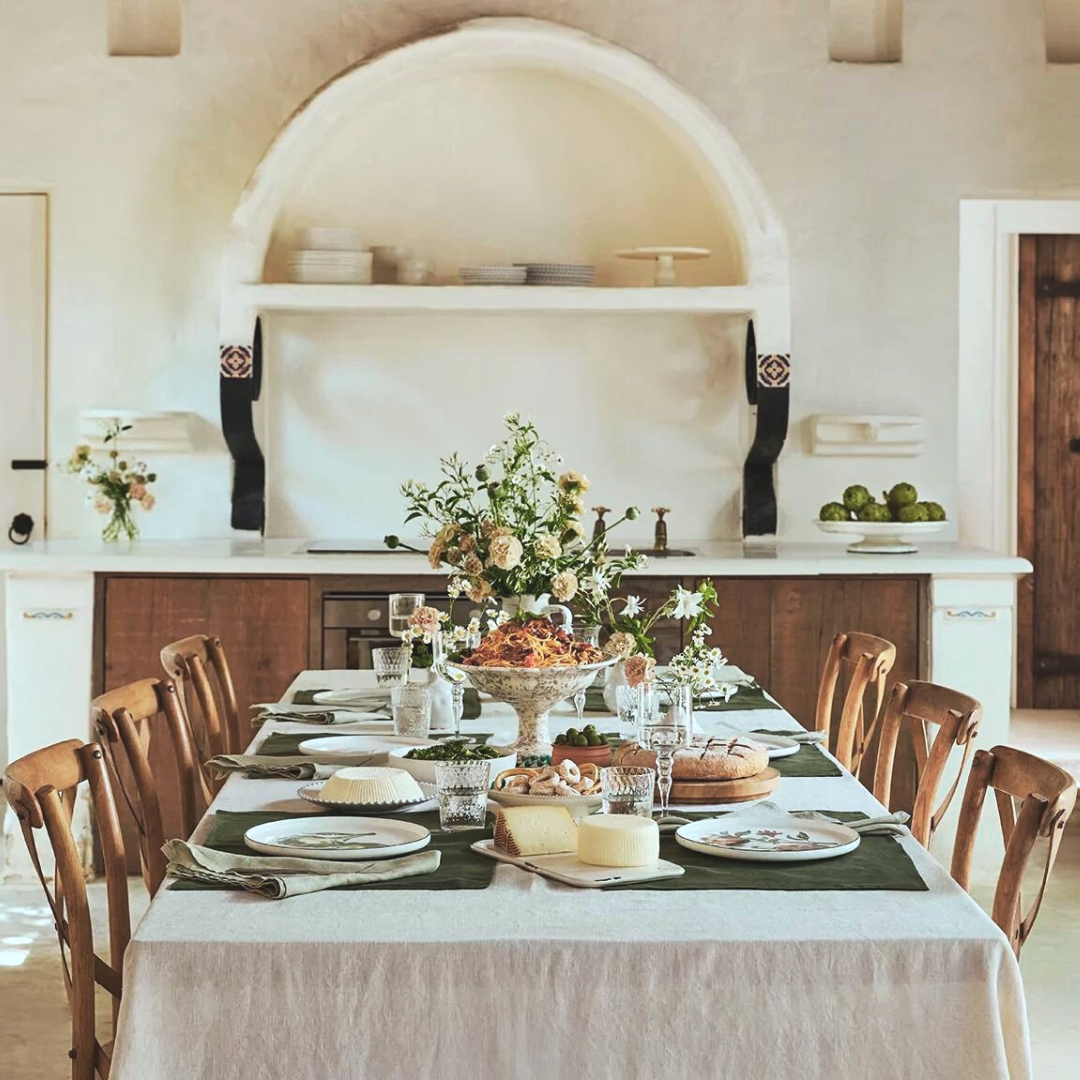 Image credit: Bed Threads
It's time to set the table
Some Christmas traditions are non-negotiable. That's why we'd never suggest you skip mum's roast ham or reinvent aunty Val's pav. However, there's no reason why you can't upgrade the table arrangements upon which your festive feast is laid out.

Replace your plastic tablecloth with a raffia-based table runner, introduce interesting textural elements like wine glasses that double as candle holders, and create centrepieces that swap gaudy paper Christmas trees for bowls of pine cones and fresh fruit.  Either experiment with seasonal berries which are available in abundance, or apples and citrus fruits that nod to a traditional northern hemisphere Christmas table setting. The Christmas crackers can stay!

What about your wreath?
While holly and ivy are the traditional foliage in a Christmas wreath, a more authentically Australian option (that's also eco-friendly) is to use eucalyptus as a filler.

Replace the pine cones with native blooms – like wattle, gum, bottlebrush and blossom – and you can create an affordable alternative, that's also lovely to look at. 
Find more inspiration and styling tips on our blog.
Get new articles weekly, straight to your inbox.
Stay up to date on exciting projects from the BOWERBIRD family.