Quickly transform your dining room with these easy makeover tips
Are you someone who only uses the dining table when you are hosting a dinner party? Or are you a 'food must be eaten at the table' type?  Either way, you want your dining room to exude sophistication and comfort for any occasion. These dining room makeover tips are sure to help.
Function first 
Before making our dining room makeover look the part, let's make sure it's a functional space as well. In short, the answer is STORAGE! Having optimal storage in your dining room can relieve the dilemma of keeping all your tableware neat and organised. We love using baskets, sideboards, and consoles for a functional space.  
Snug as a rug
Many people believe a rug under the dining table is a big NO – collecting mess and all sorts from your meal. We couldn't disagree more! After all, we're huge believers in mapping out each space with a rug. This allows you to set out different areas in an open floor plan, while adding layers to your overall look. Go for a low-pile, tight-weave rug to stop those crumbs from settling in (plus, it's nothing a regular vacuuming can't fix).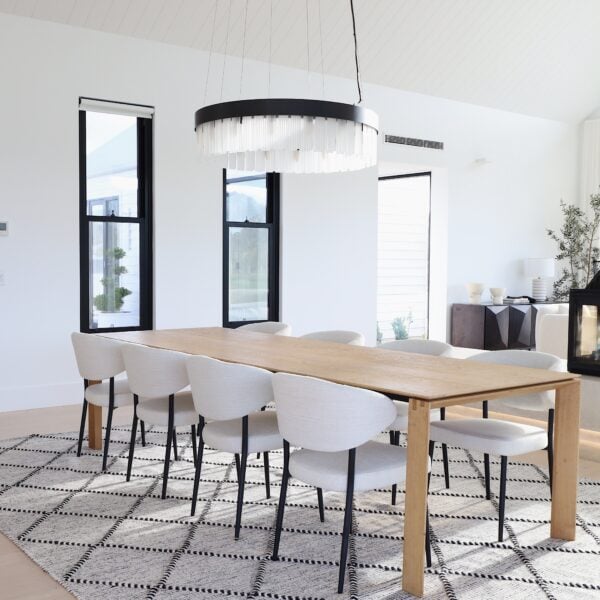 Good as new
You don't need to go out and spend thousands on a new table setting. Instead, use what you've got and give it a brand-new look. There is so much you can do to give that old dining setting a facelift – sanding back to raw timber, a bit of paint, or even a completely new finish like concrete. If you're purchasing a new table setting, go for a classic timeless look so you can change it up time and time again.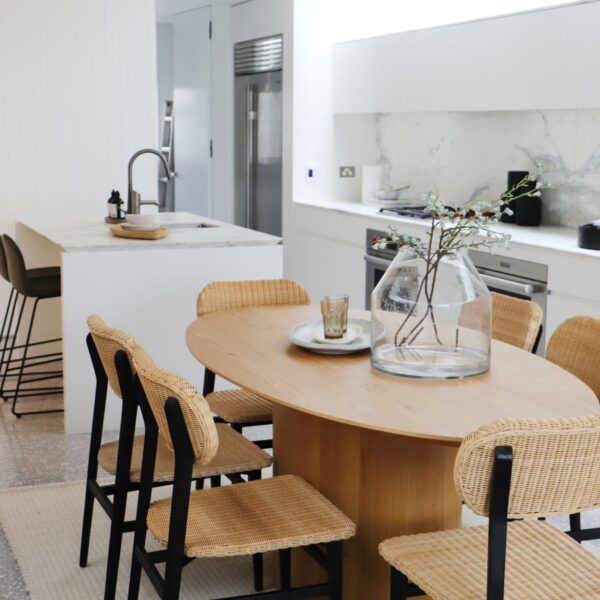 Take a seat
If you have a bit more room in your budget, look at replacing your dining chairs first. Switching out your dining chairs for something more on-trend and modern will give you the biggest impact for the money spent. Make sure you run through a checklist before choosing your chair. Do you have children? Skip the upholstered look. If your space is small, maybe look for multipurpose chairs. To match an existing table, make sure to take dimensions before purchasing.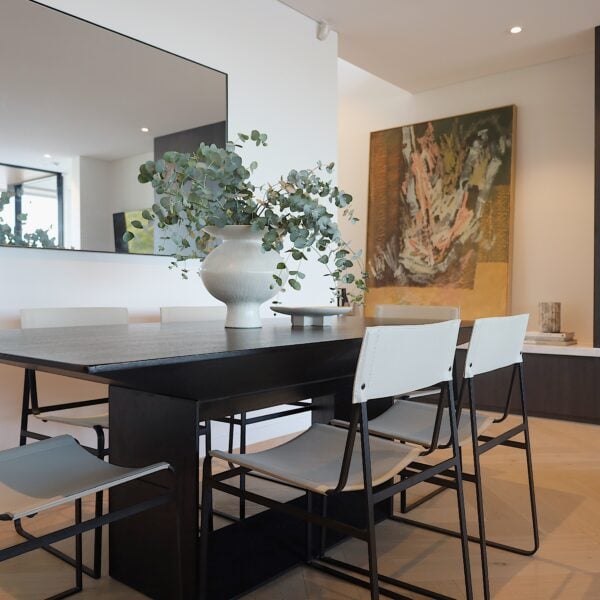 Project: Azure Burraneer, by Apexx Developments
Light it up
Hanging a pendant light over the dining table can be a great way to change up the look and give you a centre point. Pendants also create additional layers to the space, giving it depth and interest.
If you're looking to do a dining room makeover and don't know where to start from, talk to our Interior Design team who can help you curate, source and install beautiful furniture packages for your home. Fill out the contact form to book a free design consultation with one of our designers.
Get new article every day
Stay up to date on exciting projects from the BOWERBIRD family.