Commercial | Furniture Hire | Bondi
The BOWERBIRD way
A home away from home
Our Commercial projects are special to us as we collaborate closely with clients to pin down their inspiration and bring their vision to life. For this client's six Bondi apartments, we decided on three distinct design directions; coastal luxe, an LA-inspired edgy cool, and our signature Moody Hues with dialled-up sophistication.
To achieve each look, we amplified natural light and the organic textures and tones of the local coastline. Deep greens and blues were selected for throw pillows and other patterned accessories while timeless neutrals provided the base for most of the furniture and finishings. Our designers also played on texture, depth and shape to elevate each space.
For all six properties, we sourced custom artwork to tie in with the design concepts and complete the look. A mix of wild landscapes, monochrome line art and other abstract pieces were carefully placed throughout the rooms.
An inviting space for guests to work or unwind
The brief
We were excited to help transform six Bondi apartments into boutique accommodation. Having realised the importance of inspiring interiors to attract guests and allow them to feel right at home, this client tapped on the BOWERBIRD team to convert the tired interiors into aspirational spaces.
Following our initial discussions, we understood that an idyllic beach escape means different things to different people and that our interiors should meet the needs of all kinds of guests – those travelling to Sydney to explore the city and experience the beach lifestyle, those looking for a breezy space to unwind in, and those with plans for a productive work trip. The perfect interiors should translate all of these intentions into a consistent 'look and feel'.
Our designers made sure there was ample light and desk space for work, while also creating cosy spaces in each apartment to rest and relax. Aside from the more practical design considerations, the vibe of the properties was to convey a looser kind of luxury, reminiscent of breezy summer evenings spent at chic beachside resorts. Such is the power of strong interior design to make guests feel the excitement and wonder of travel while also creating a cosy and "homely" ambience wherever they are.
The buzzy location of the apartments – set between famed Tamarama and Bondi Beaches – was another clear inspiration for the design. Our client wanted to blend design elements from the local area with those from some of their favourite hotels, restaurants and bars from around the world. We were able to incorporate all of those influences in three design directions.
Scope for each apartment:
Kitchen
Dining
Living room
Master bedroom
Second bedroom
Balcony
Design Directions: Moody Hues, Coastal Luxe and LA Cool
We based our design concepts on the client's request for a casual kind of luxury, one that feels as accessible and effortless as it does sophisticated. The three selected looks were coastal luxe, an LA-inspired edgy cool, and our signature Moody Hues.
From initial briefing to execution
01
Initial conversation
Our first step was to listen. We gave the client a call to get a clear understanding of what they were after and outlined our process. After the call, we followed up with additional questions, just so that we knew we were going to get things just right for when we visited the space for an initial consultation.
02
Consultation
Equipped with all the information we needed, we set up a FREE consultation. During this appointment, we met with the clients to discuss their objectives and get a feel for the space, and the overall look they were hoping to achieve. It was at this point that we completely fell in love with the home and its potential.
03
Proposal
Within 24 hours of the consultation, we had a proposal ready for the homeowners. We arranged a meeting with all the decision-makers (we didn't want anyone feeling left out) and went through every detail of their bespoke proposal and our service delivery - from initial mood boards, right down to rubbish removal on install day.
04
Design
Once the proposal was accepted and the projects' ten per cent deposit paid, we went straight to work putting together the detailed design scheme - sourcing only the best and importantly, the actual furniture we intended to use to fulfil both budget and brief.
05
Design sign-off & furniture purchase
Once the furniture was sourced and agreed upon, we were able to move to the next stage. The client paid their next instalment of forty per cent of the proposal price and off we went to secure and purchase the furniture. Importantly we moved quickly - this ensured all pieces selected and signed off were still in stock and available for delivery. Conveniently all deliveries come to our warehouse, where they are safely stored until we were ready to transport them to the home. Once we received all the pieces, we loaded our trucks ready for the install date.
06
Install
The day had arrived, and we were hugely excited to see what we had been planning, come to life. We did it all, from ensuring the furniture got there safely, to styling and curating the pieces of furniture. Right down to the clean up of all rubbish, it's important to us that our customers start enjoying their homes from the moment we step out of their door.
Manifesting with a moodboard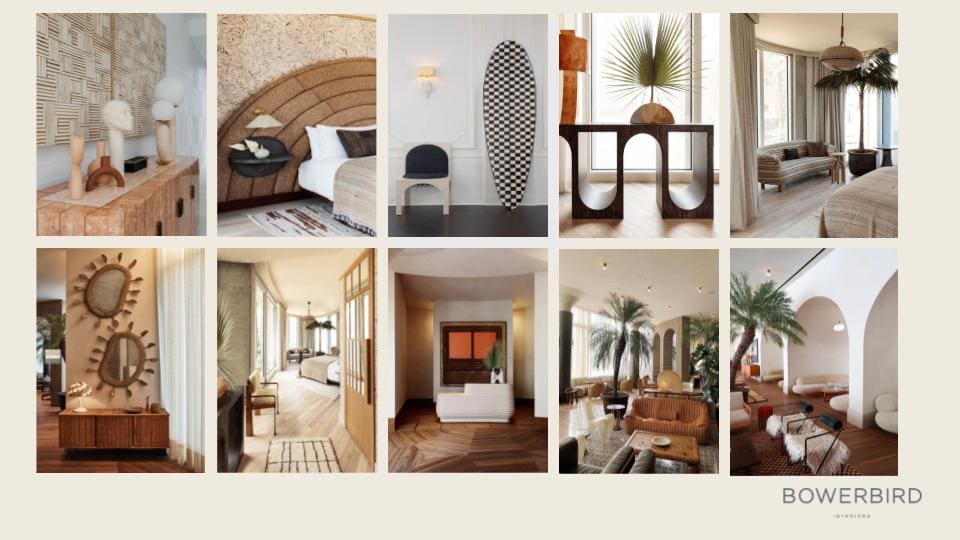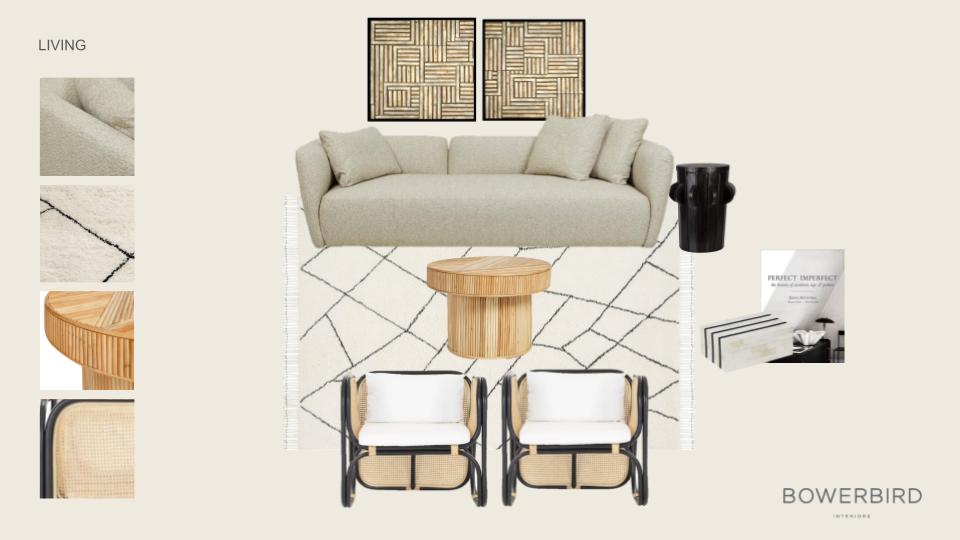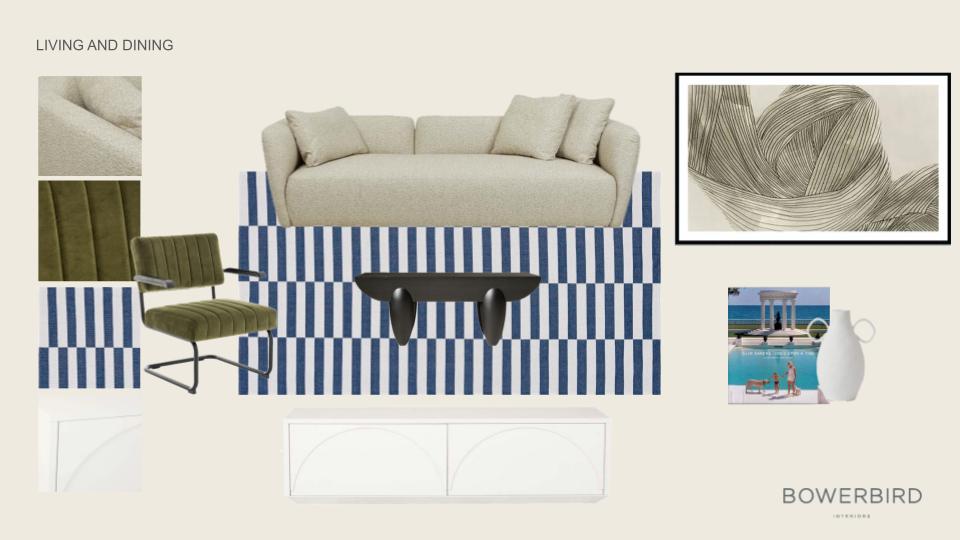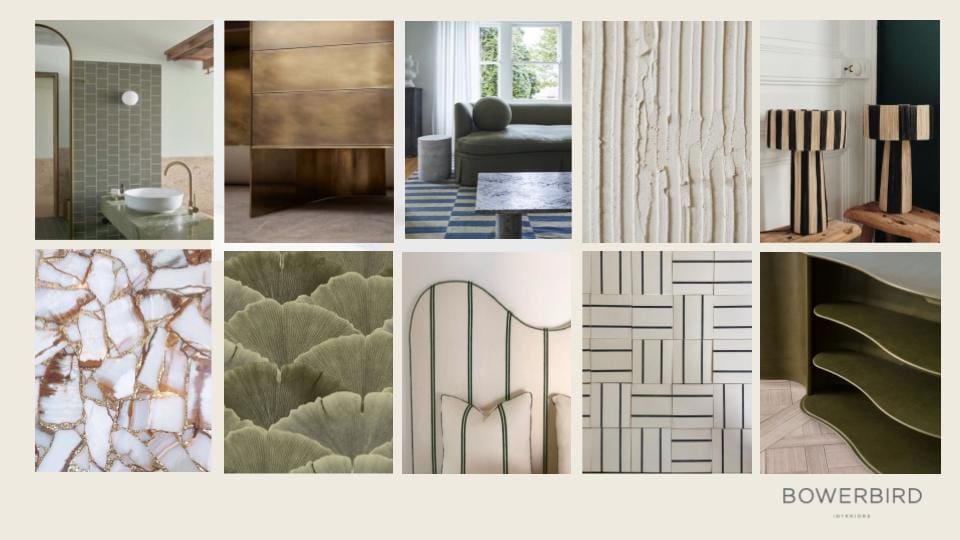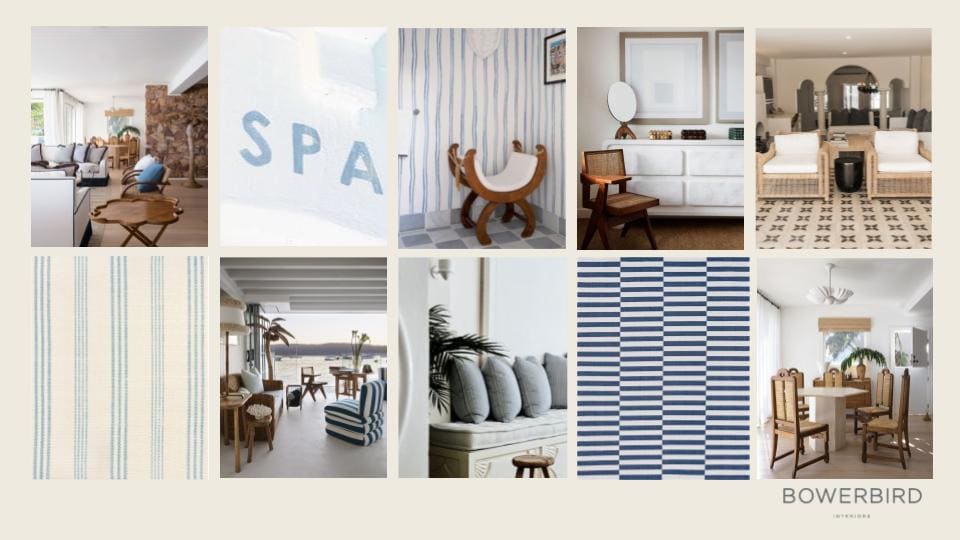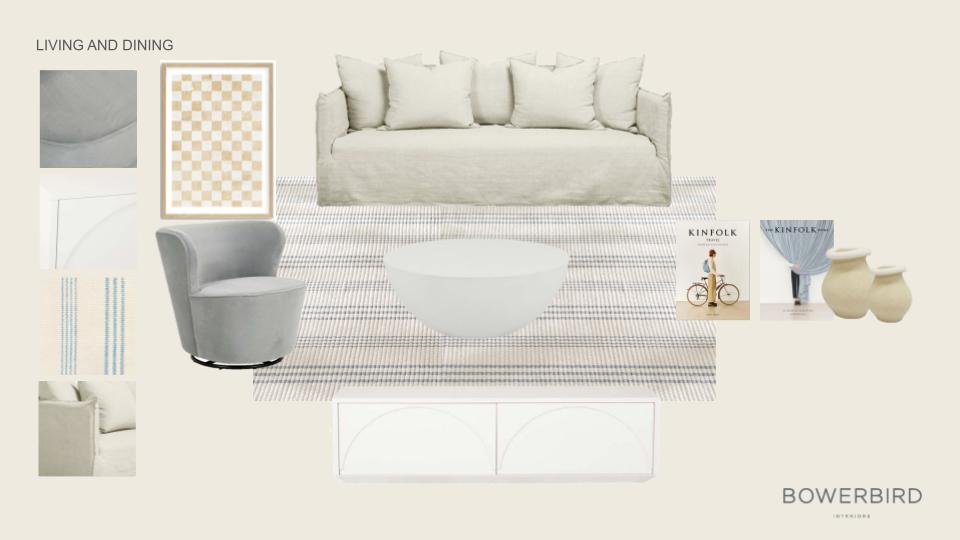 No matter what stage you are at in your property lifecycle, we can help.
If you are looking for long-term furniture hire or purchase, our Commercial solution could be just right for you.
Fully project-managed (right down to the clean-up) and styled by our interiors experts.
For more information, visit our Commercial page.
Bringing inspiration to life