How to style your outdoor space… three ways
Considering Australia's beautiful climate, it's surprising that the outdoor area is often overlooked when it comes to styling. With some simple planning you can transform your outdoor area into an outdoor room that is both a functional and stylish entertaining space that you will love.
Here we explain how, in three distinctly different ways.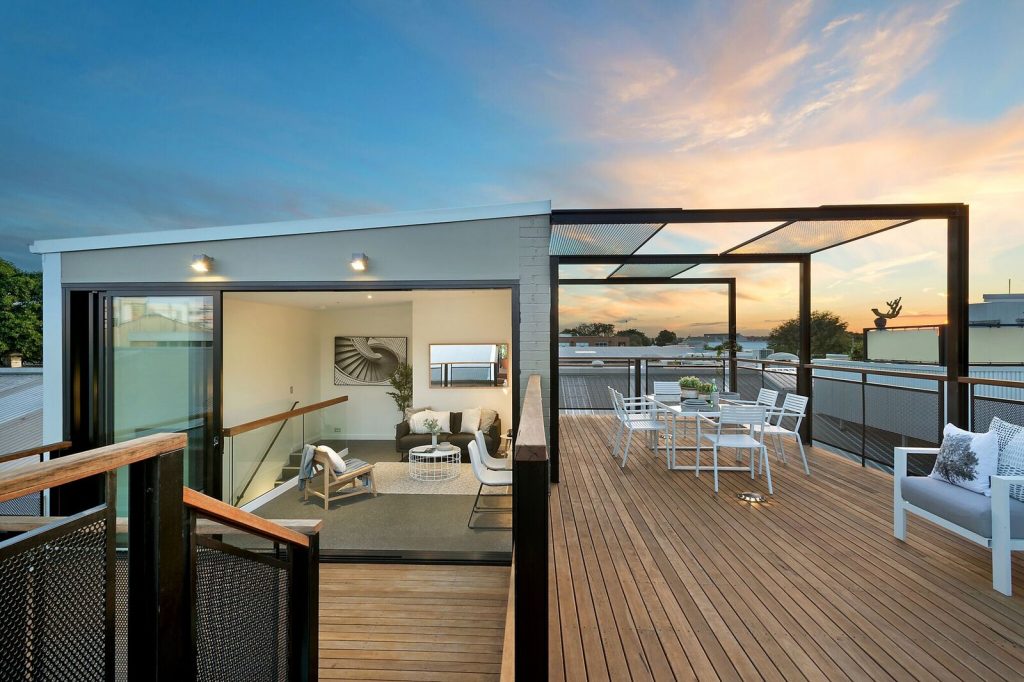 CONTEMPORARY
To achieve an inspiring outdoor entertaining space, focus equally on your outdoor and indoor areas. Aim for a relaxed zone for everyday living and a more formal area for dining and entertaining.
Quality designer outdoor furniture will complement a minimalistic style property; just ensure it proportionally matches the scale of your home. Low dining chairs with simple lines will make a strong statement without overpowering the space.
Contemporary styling is just as important when making an impact on outdoor spaces. A modern style garden is likely to feel very open – accentuating the sense of space. With a strong focus on design, incorporate large-scale pots to allow the outdoors to reflect its surroundings. The aim is to avoid clutter and confinement, so often one feature pot containing an established plant is perfect for making an impact. Plants such as frangipani or agave can enhance the resort style ambience.
Just like inside your home, the key to styling a contemporary space is to add warmth and texture. Don't be afraid to embrace the current monochrome Scandinavian trend by mixing contrasting natural elements such as timber, linen and marble on the table and incorporate brass lanterns and candles clustered on trays.
When styling the outdoors of a modern coastal home, maintain a minimalist ethos with clean lines and a low- key approach. The composition of colours and materials should reflect the outdoor elements, but push the boundaries when it comes to playing with accent colours. Green or blue scatter cushions will provide a nautical reference without being too literal. Styling with textured throws are not only practical but can visually soften the hard lines of structured furniture, also adding warmth on a cool evening around a fire pit. An outdoor shower is the perfect mix of a practical and impressive feature to complete that beach side atmosphere.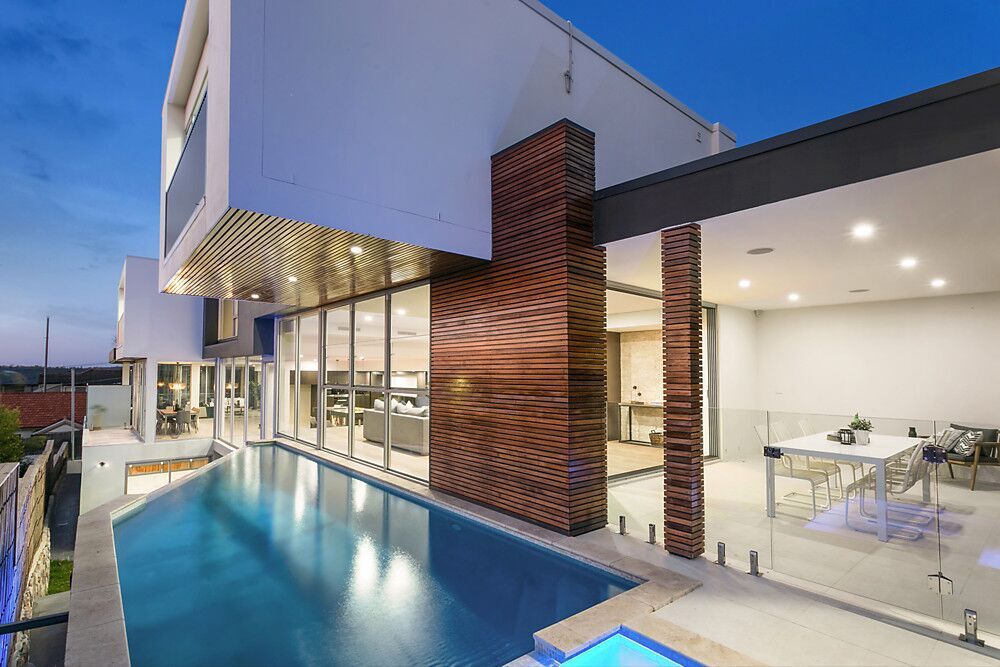 LUXURY
Allow your lifestyle to inspire your outdoor setting. If you love nothing more than hosting long relaxing lunches, then you should focus on creating a dining zone.
Simple rattan furniture provides a luxurious but relaxed island vibe. The tropical trend is about a luxe resort feeling, so add cushions in botanical prints for a subtle nod to nature. To achieve a tropical Palm Springs feel, accessorize with classic nautical fabrics like stripes and geometric patterns in soft furnishings. Pairing pastels with layers of white will maintain a fresh and light aesthetic.
When styling your dining table, you can balance both formal and fun by adding linen tablecloths and napkins in natural tones. Don't forget you can use your "good cutlery", silverware or copper tableware for a glamour. Steer clear of any plastic "outdoor" tableware – leave that for the kids table!
Every room in the house needs a feature piece and your outdoor area is no exception. Look for a nook or balcony to create something special. A hanging egg chair, day bed, hammock or sun loungers will work perfectly if you have a cozy suntrap and will bring glamour and intimacy.
If you don't have an outdoor kitchen, set up a drinks trolley to emulate that vacation feel and style with wine glasses, decanter and cocktail utensils. If you reside close to the beach or have a pool, focus on function and fashion with Turkish towels and straw hats.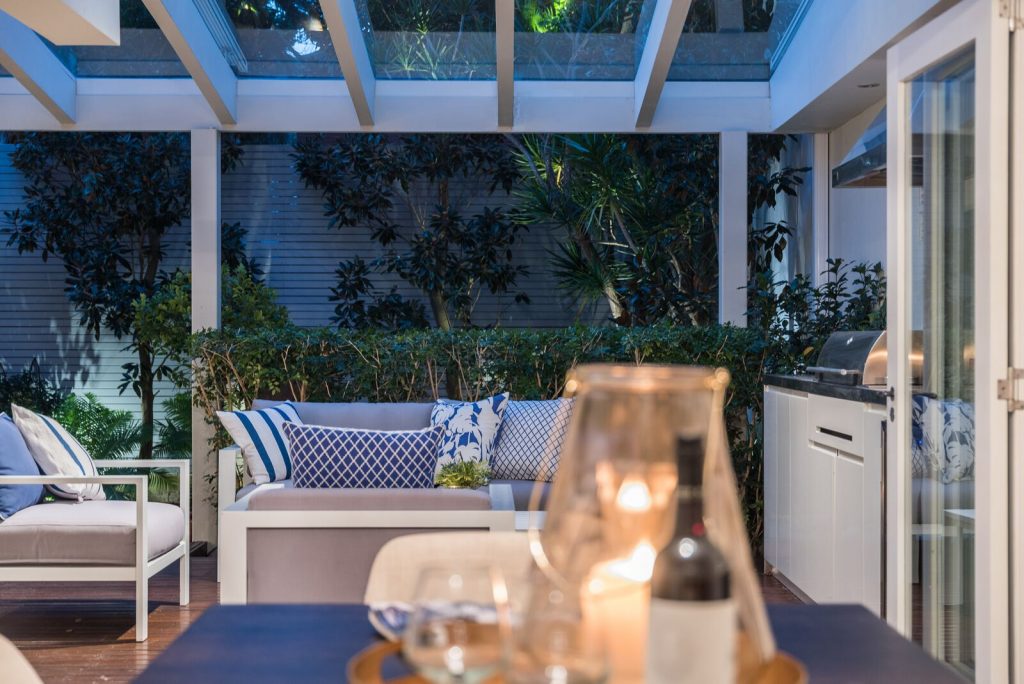 CLASSIC
The right soft furnishings can elevate any outdoor room regardless of size limitations. To complement a classically designed period home it's imperative your furnishings not only suit the style of the home but are also durable if they are exposed to the elements.
The best way to create a cohesive entertaining space is to replicate your interior design. Begin with spatial planning and choose a sofa and seating that reflects the same aesthetic. Don't overlook glamourous touches simply because you're styling an outdoors area. Where possible include elements that provide intimacy, such as pendant lights and mirrors to reflect light. Textured rugs on hard surfaces will add sophistication and warmth. Keep in mind the importance of a good quality and well-proportioned coffee table, along with stools, side tables and ottomans, this will increase versatile seating options and give your guests a spot for their drinks.
It's worth investing in a couple of outdoor cushions that you really love.
While they may cost a little more to begin with, specialist outdoor fabrics will definitely stand the test of time. Stick to a neutral colour palette, including cream, white or taupe so you can add in a few more affordable ones in contrasting accent colours. Bench seating is a great space saving option and discuss with an upholsterer about custom –made cushion covers in a fabric to suit your colour scheme.
Want more styling advice?
Subscribe to the newsletter for weekly blogs straight to your inbox.