How to style with indoor plants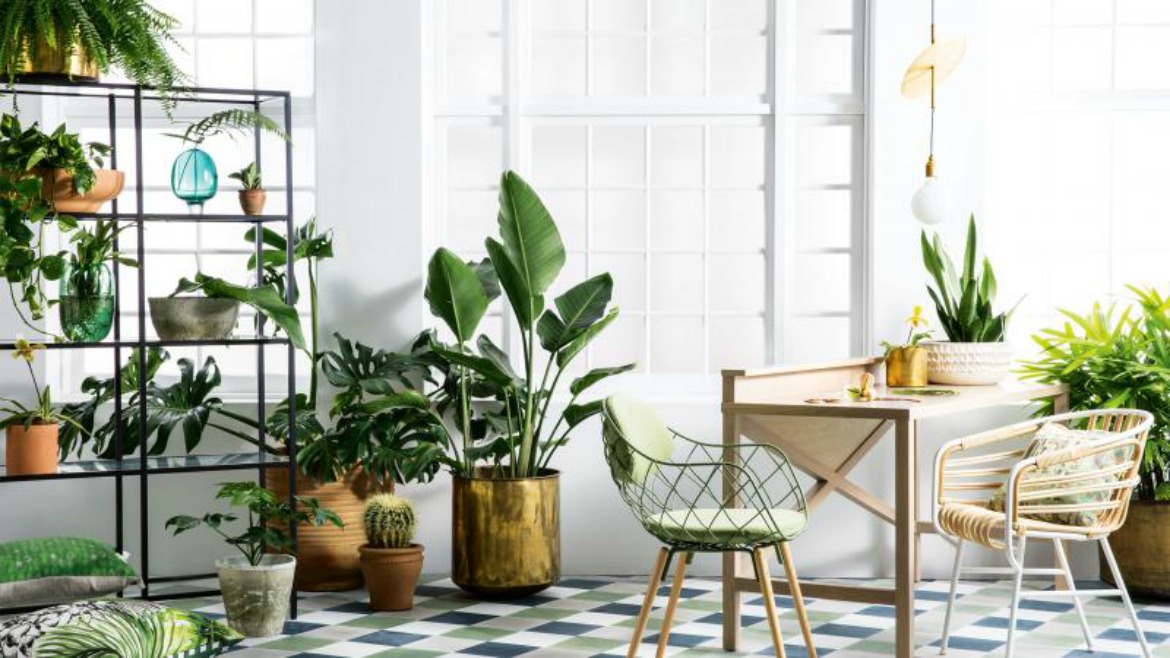 If you don't have an indoor plant in your house right now, go out and get one (or five) as its not only one of the biggest trends out there in the world of interiors, but plants instantly soften a space, adding colour, shape and life to a room. They work not only work in every room and colour scheme, but they are a powerful design tool, plus they are useful as a space-filler or a standout feature in themselves.
One large well-developed tree adds height and drama to a room. Clusters of plants can work well in room corners, on plant stands or where nothing else fits in a seemingly wasted space. Hanging plants are a nice feature as they spill out of their pots giving a sense of movement. So it's time to visit your local garden centre and get inspired. Here are our top tips for indoor plant success.
Wall mounted foliage
Indoor plants don't just have to stand on the floor. The lone Staghorn Fern can act as a single piece of art mounted on the wall and are an instant space filler. The best way to place them is either above the bed or collage a number of them to create a feature wall in the living room. They are pretty low maintenance too, but make sure you position in good natural light and air flow and don't forget to water and apply liquid feed to keep them healthy.
Create a centrepiece
If you have allergies and fresh flowers aren't your thing, an affordable alternative is a potted plant as a focal point on the table centrepiece. Stand one on its own or have a cluster with different shapes and sizes. You don't have to have them all in an ordinary ceramic pot, place one in a terrarium, a bowl, cup and saucer or in a jar. Get creative with what you use to pot it as this creates a point of interest too.
Hanging plants
If your place is small and you can't afford to give up any floor or wall  space, fill vacant air space with hanging plants. Get a long vine plant so it cascades out of its pot and gives the room the sense of movement. You can use a Donkey's Tail, Snowtopia, Boston Fern, Pothos Plants or String of Pearls Plant there are hundreds to choose from varying in shapes and colours. You can use a Macramé plant hanger, a wooden bowl with rope, woven basket or playful pots hanging in a vertical line one after another, turn it into a piece of art.
Greenery good enough to eat
Don't have a backyard? Add a mini indoor herb garden to your kitchen bench or window sill. They are low maintenance, make the kitchen smell like something is always on the menu and are readily available for practical use in recipes. To ensure success, it's usually best to start with healthy plants rather than seeds. Established plants put you months ahead (sometimes even a year) compared with plants started from seeds, plus they offer you a wide range of varieties for growing indoors. Choose a location with temperature between 55 and 75 degrees and with good air circulation.
Don't get caught green handed
If you struggle to keep plants alive for more than a few weeks, but also struggle with the idea of fake foliage, give a succulent a go. They are among the hardest to kill and don't like to be watered too often – we love a low maintenance greenery. Not only are they affordable, but the best thing is they grow from pieces so all you need to do it purchase one and brake a piece off to pot a brand new one and the circle of life continues. Do read the label when you buy a succulent as some demand full sun all day – common Jades and Crassulas work well, Epiphyllum trailing succulents are also great.
Want more styling advice?
Subscribe to the newsletter for weekly blogs straight to your inbox.