Recreate our coastal look without falling into an EOFY frenzy
Has the blistering cold left you motivated to weave a little contemporary coastal home decor into your living space? Then you'll love these three tips inspired by our Penthouse Paradise project in Cronulla.
Unlike your traditional beachy-boho look, contemporary coastal style is an opportunity to incorporate more, well, contemporary trends into your home's aesthetic. 
It builds on the neutral colour palette traditionally associated with seaside living, but modernises it through bold lines and classic, sophisticated textures – such as smooth marble bench tops, geometric vases, or a boucle chair. 
Plus, by pairing these hacks with our new Dream Big, Pay Later package, you can skip the mid-year furniture frenzy sales and save your End Of Financial Year spending budget for other exciting escapades … like a real-life, mid-year island escape, maybe?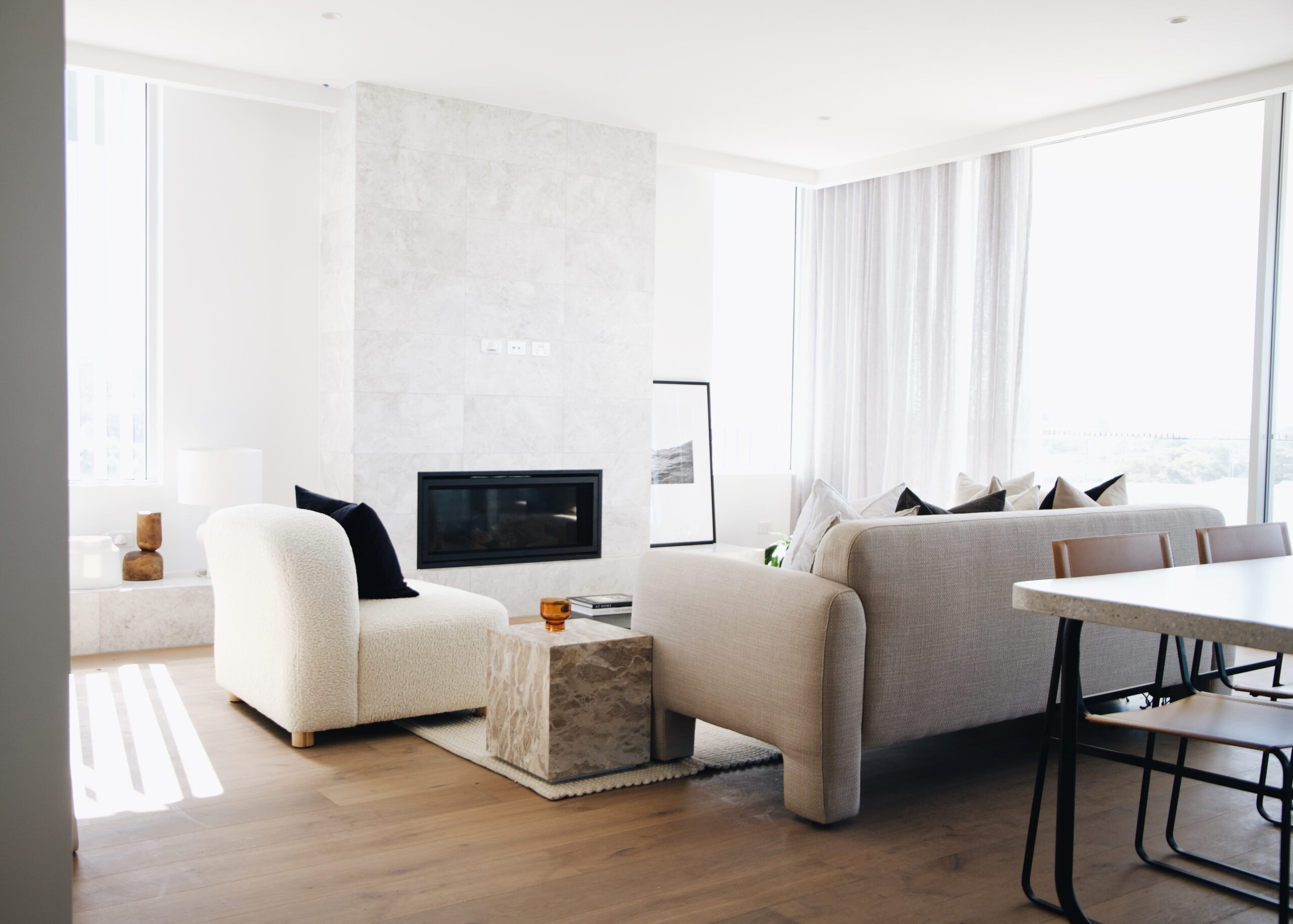 Coastal home decor: The floor is yours
Recreate the experience of a Summer boardwalk stroll by opting for wooden floorboards. 
Whether you choose something slick and sophisticated or a textured and well-travelled finish, wooden floorboards are a key component in incorporating a little contemporary coastal charm into your home decor. 
The oak ones in our Penthouse Paradise project in Cronulla bring a Summer-esque warmth to the home, despite the grey skies outside. 
If you don't have floorboards as a base, deep cleaning your carpet can help recreate a similarly fresh feel.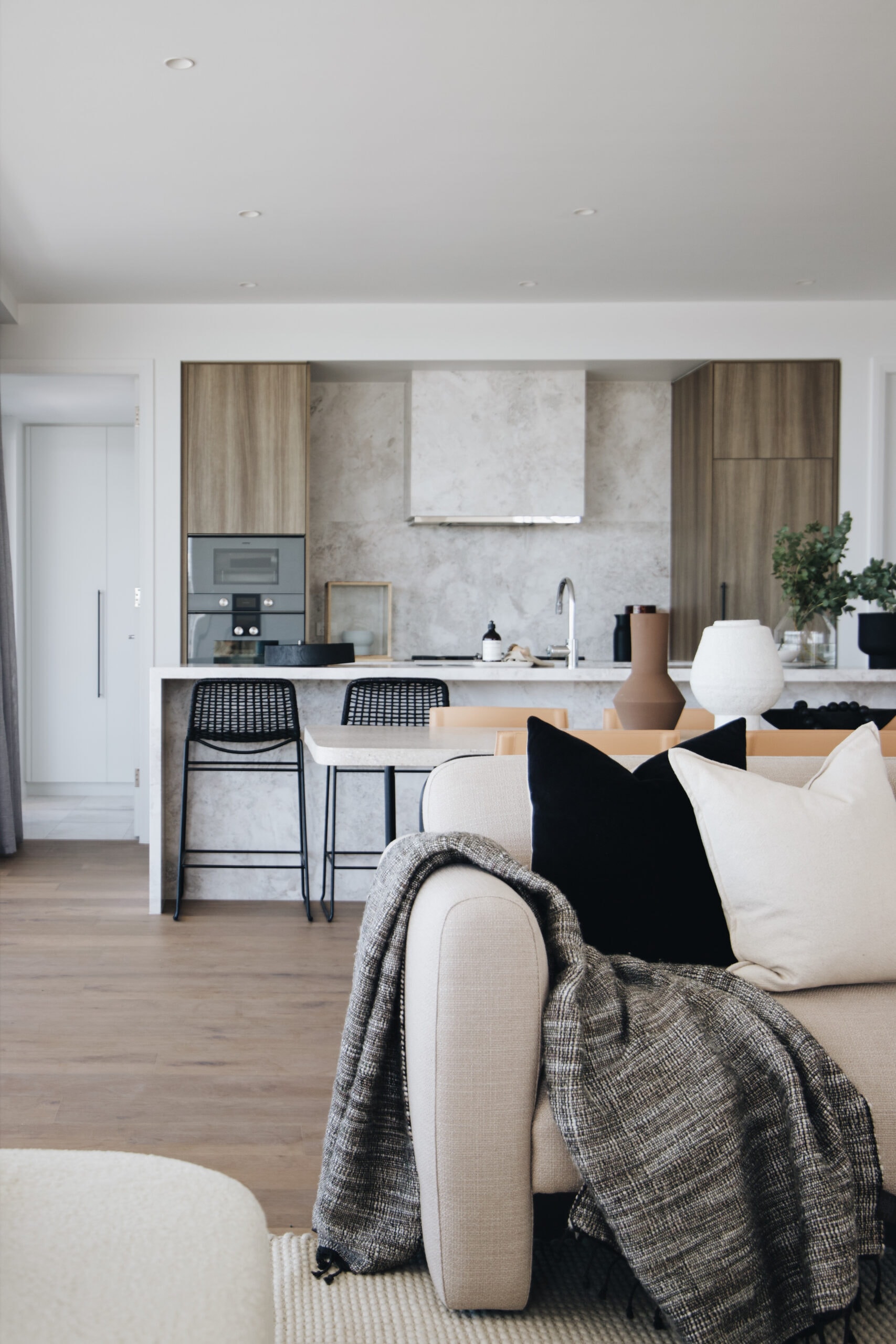 Tan-toned furnishings
You may spend all Summer trying to avoid bringing sand into the house, but we suggest making an exception for sandy, golden-coloured furniture!
The light and luxurious couches, table tops, and bed heads that feature in Penthouse Paradise, are a nod to the natural honey hues that one would normally associate with the warmer weather.
However, the fact that these neutrals layer so easily with cold-weather accents like thick throws and woven woollen blankets make them equally appropriate for Winter.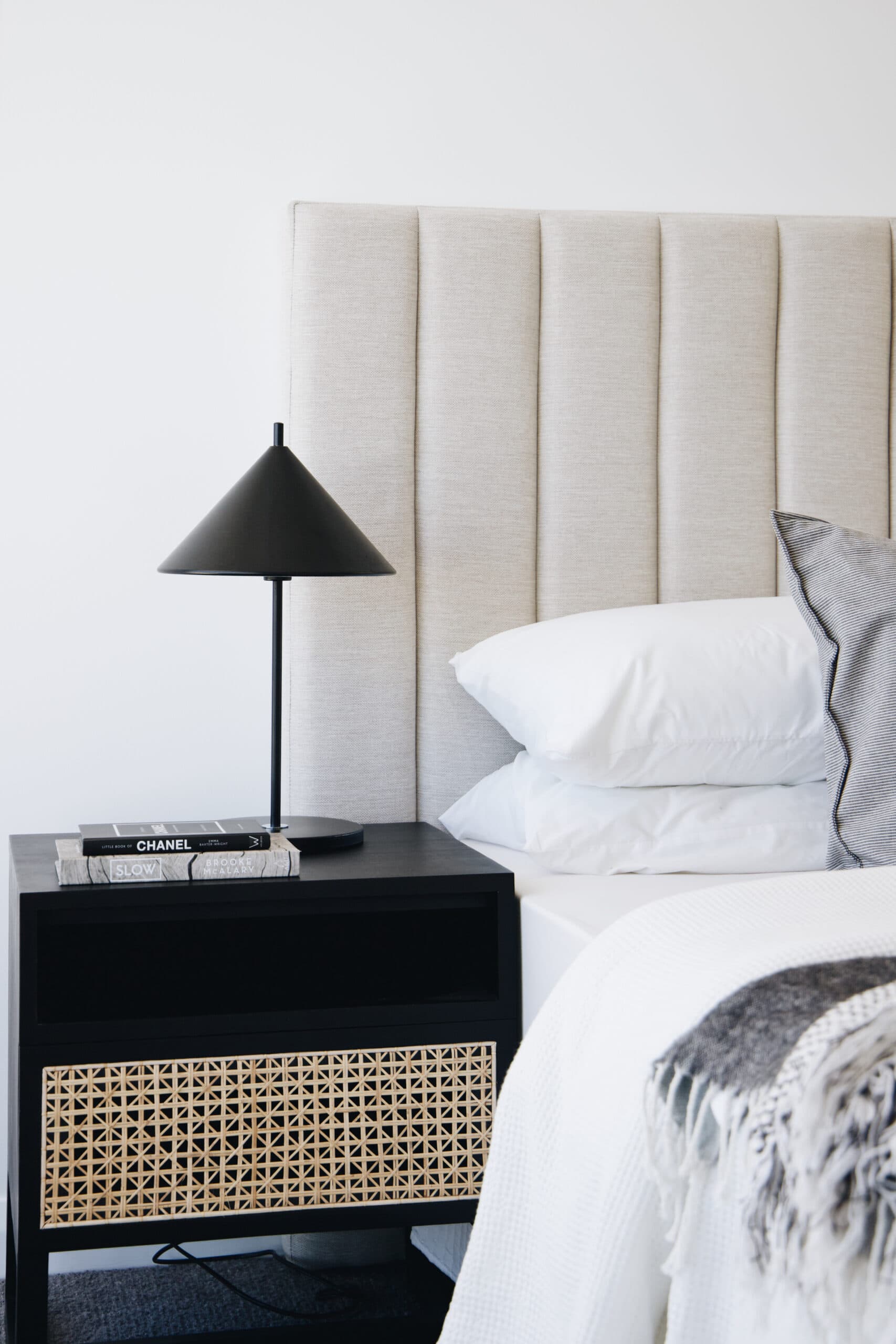 Be inspired by open spaces
One of the secrets to authentic contemporary coastal home decor is to be selective and streamline your accessories. Avoid clutter, and opt instead for one or two statement pieces that really reflect the simple, subtle sophistication of Summer.
Take your cues from our interior designers who kept accessories to a minimum and simply scattered a few modern vases, clay bowls, and geometric lamps in Penthouse Paradise.
The end result? A space that channels the easy airy vibes of the season, regardless of the cold outside. And it's one that we can help you recreate before the temperature really drops.
When to call the professionals
Let's face it, not everyone has the time (or patience) to find the perfect furnishings to pair with their home and design dreams unless you live and breathe interiors… like us! With access to the latest in interiors and the knowledge to transform your space, our Styled to Keep team is on standby.
Plus, access loans of up to $250,000*, interest-free, and 12 months to pay, you can afford to spend your money on a genuine mid-year escape, while recreating your year-round contemporary coastal dream home now. Allow yourself to Dream Big, Pay Later. No interest. None. Not ever.
Get in touch at hello@bowerbirdinteriors.com.au or 02 9531 2233, or use the contact form and our team will be in touch to organise a free consultation.

*To approved applicants. Conditions apply.
Get inspiration from us weekly, straight to your inbox.
Stay up to date on exciting projects from the BOWERBIRD family.