The modern dining space is a constantly evolving concept, regardless of whether you have a separate formal room dedicated to dining, or you eat your meals at your kitchen island bench. With a focus on furniture, fabric and finishes, a stylish and intimate space can be achieved.
Here we explain how, in three distinctly different ways.
Contemporary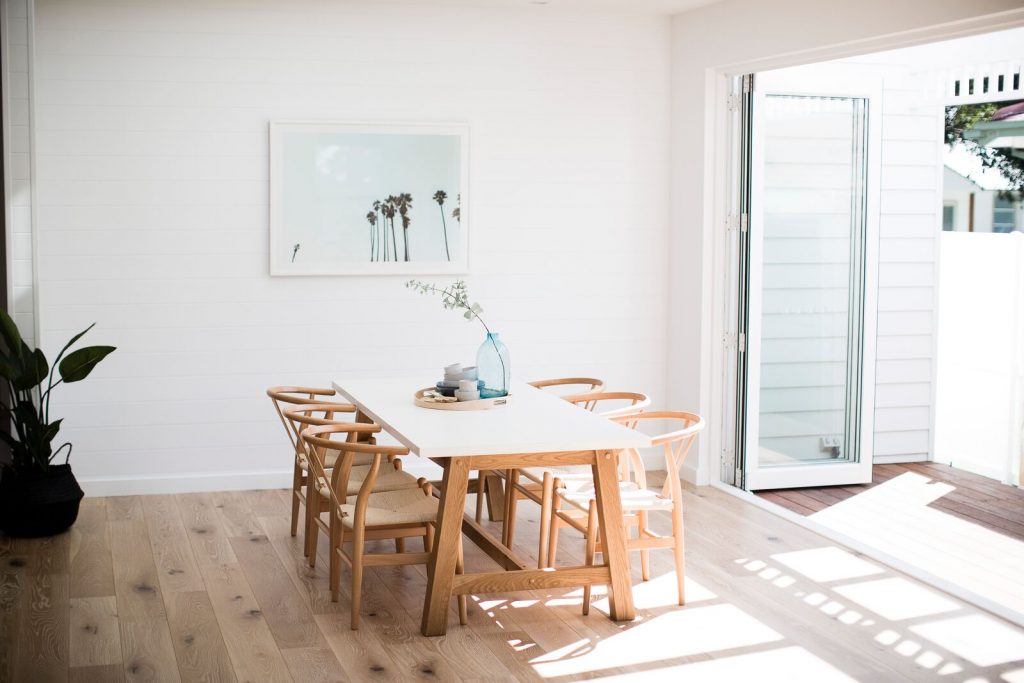 When choosing furniture consider how often you will use the space. If you plan on using your contemporary dining room on a daily basis, well-crafted furniture will stand the test of time. A minimalist look can still have a warm ambience, so source modern dining chairs that share a common design element.  If you favour a coastal or Scandinavian aesthetic, an oak table with sleek lines will add a more relaxed feel to an otherwise formal room. Replacing chairs with benches will also provide a more informal space while maintaining a minimalist design approach. Benches haven't traditionally been associated with dining but communal seating is not only a space-saving option, but creates a more intimate dining experience.
It's all about neutrals in contemporary design, however neutral doesn't necessarily mean beige and white. With the popular Scandinavian influence in interior design, muted tones extend to beautiful blush pinks, pale greys and camel tones, which allow for flexibility when matching your accessories.
Make sure and scale up when it comes to styling your space. The recent trend for over-sized mirrors and artwork help to define the zone. For a realistic and efficient approach to styling, stack your favourite ceramic bowls, plates and cookbooks, along with a few linen napkins on a well-proportioned tray. Equally, vessels in different shapes or sizes are a beautiful and simple way of styling your table.
Your focus should be on texture and contrast when decorating, as too much of the same finish would make the area feel cold and impersonal. Natural elements like statement rustic antlers will add contrast to a shiny, contemporary dining space.
Luxury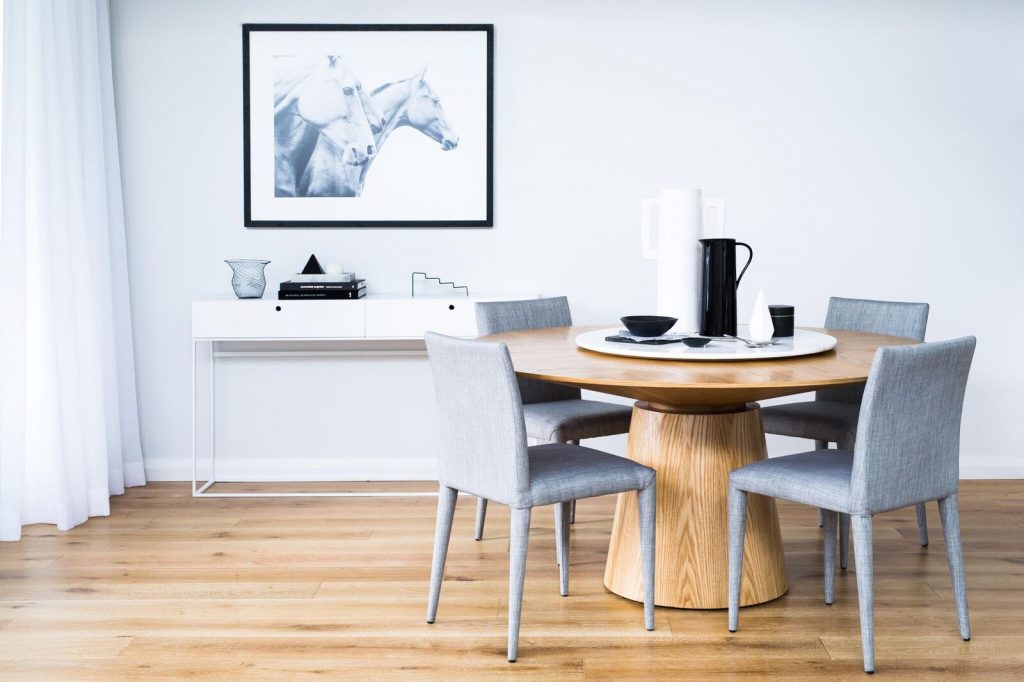 A luxurious dining room is no longer defined by an opulent crystal chandelier, instead let subtle sophistication rule the room. Focus on glamour with an impressive lighting feature like a trio of pendants.  If the dining room is more a space than a room, make sure there is a connection with the existing interior, for a seamless scheme.
Luxury is synonymous with comfort so don't overlook the importance of comfortable chairs, also go into the store to try before you buy, as not everything is as it appears on the internet. Upholstered dining chairs give a sense of sophistication and glamour.
To create a home that feels curated not contrived, focus on pattern and don't underestimate the importance of texture in every form, from light fixtures to fabrics and wallpapers. A combination of luxe accessories in the dining room, such as a timber table with gold pendant lamps is surprisingly polished and fresh.
Add some floral flair with a vase of fresh flowers or green leafy branches, which will bring colour and life to your dining space. You don't necessarily need to go to the florist, so consider Eucalyptus branches or fig branches for a sculptural feel.
Include a sideboard or console to provide style and maximise storage, but don't forget this surface also needs a little styling. Group items on a tray as they make any arrangement of items look cohesive and stick to odd numbers for balance. You can use a variety of materials such as concrete, metal, and marble and mix heights and sizes for interest. A burning candle will add warmth and romance.
Classic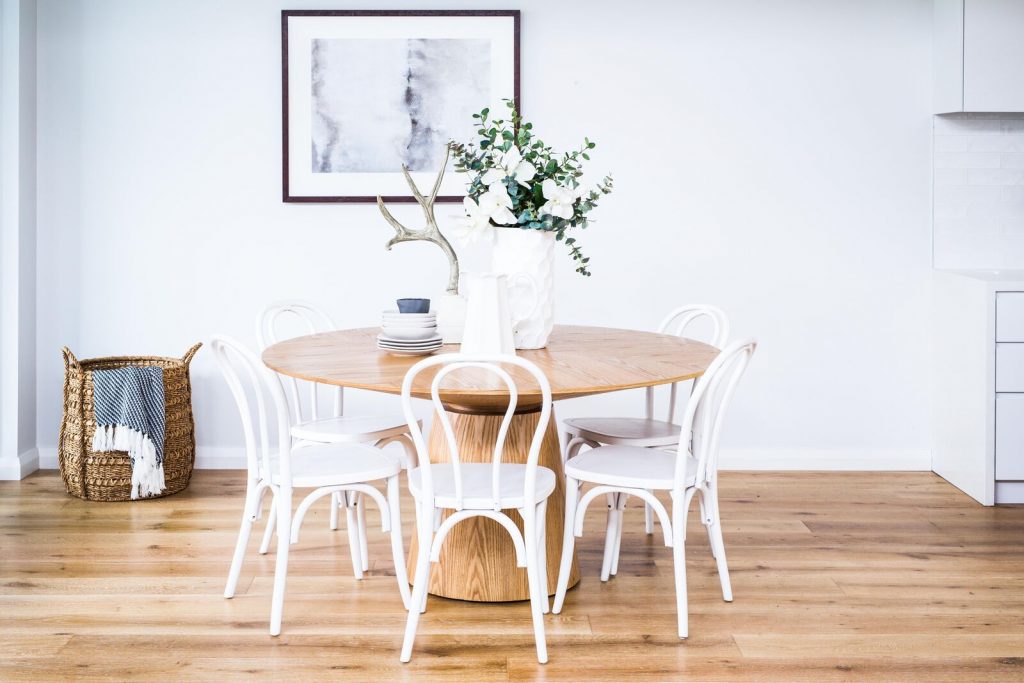 A formal dining room in a more traditional home is best suited to a dedicated space. Start by sourcing a table you love. Rectangular dining tables are very versatile; a round table is best in a tight space and also a great way to encourage conversation. A square dining table can be a dramatic addition to a dining zone.
Create a dining area with banquet seating to maximize space and add casual charm to a traditionally formal room. When it comes to choosing colours, dark shades of green are becoming increasingly popular in interior palettes. Paint your dining space a rich shade of green to create a wintery Scandinavian backdrop for furs, tan leathers, brass lamps and natural fabrics such as linen. Use soft accessories such as a lambskin rug on a chair or cushions to add depth and incorporate colours from the outdoors.
For a modern take on classic design – consider painting beautiful Thonet chairs in a contrasting colour. They will complement a dark timber table, and the effect is a clean colour palette with a timeless vibe. Unless you're experienced, leave the painting to the experts.
For those keen to challenge traditional styling conventions, why not create a stylish dining vignette using a tray or cutting board and introduce a scheme with timber blush pink and copper. Use items that relate to the dining space such as salt and pepper grinders, ceramic plates and glassware has a striking silhouette but doesn't dominate. According to the rules of styling, items arranged in odd numbers are more appealing to the eye, so consider injecting colour by styling with three vases and use a trick of adding greenery to one.