Traditionally speaking bedrooms aren't primarily designed for show, they are private spaces intended for rest and relaxation. However if you take inspiration from the following three popular design styles, you could successfully elevate your bedroom to be the hero of the home.
CONTEMPORARY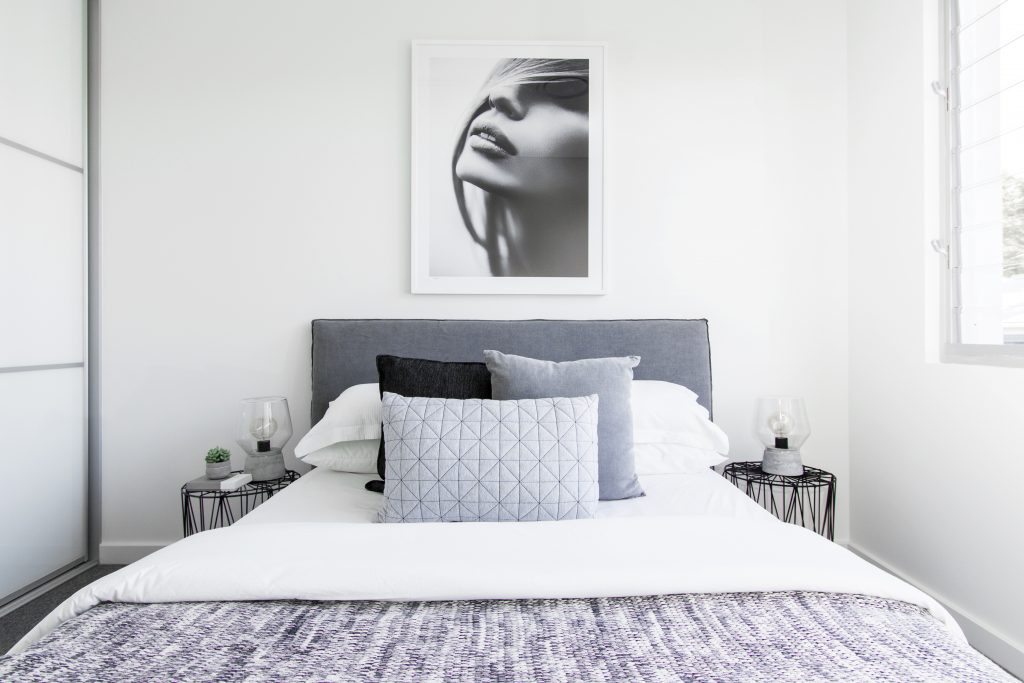 Commonly referred to as the oasis of the home, a bedroom can easily be transformed into a peaceful retreat within a contemporary home.
Your bed is the most important piece of furniture in the room, even if it's the only piece of furniture! It establishes scale and presence. A statement bedhead is a good place to start and a bold or interesting fabric creates a strong impact. Choose a bedhead with extra height to create a dramatic twist on a classic design. It can make a low ceiling seem higher, and it can keep your bed from looking lost if the room has high ceilings.
Changing the paint colour on the walls is an affordable way to transform your bedroom interior. Consider a neutral palette and paint the furniture, built-in cabinetry and storage all in the same colour to convey a more spacious and cohesive room.
When styling soft furnishings such as scatter cushions, throws and accessories, continue the neutral scheme to complement the contemporary aesthetic. Simplicity is key, but one or two pops of colour will add interest. Focus on textures such as leather, linen or cowhide to create a subtle yet sophisticated statement, while softening the space. Consider pendant lighting to add dimension to the overall design.
LUXURY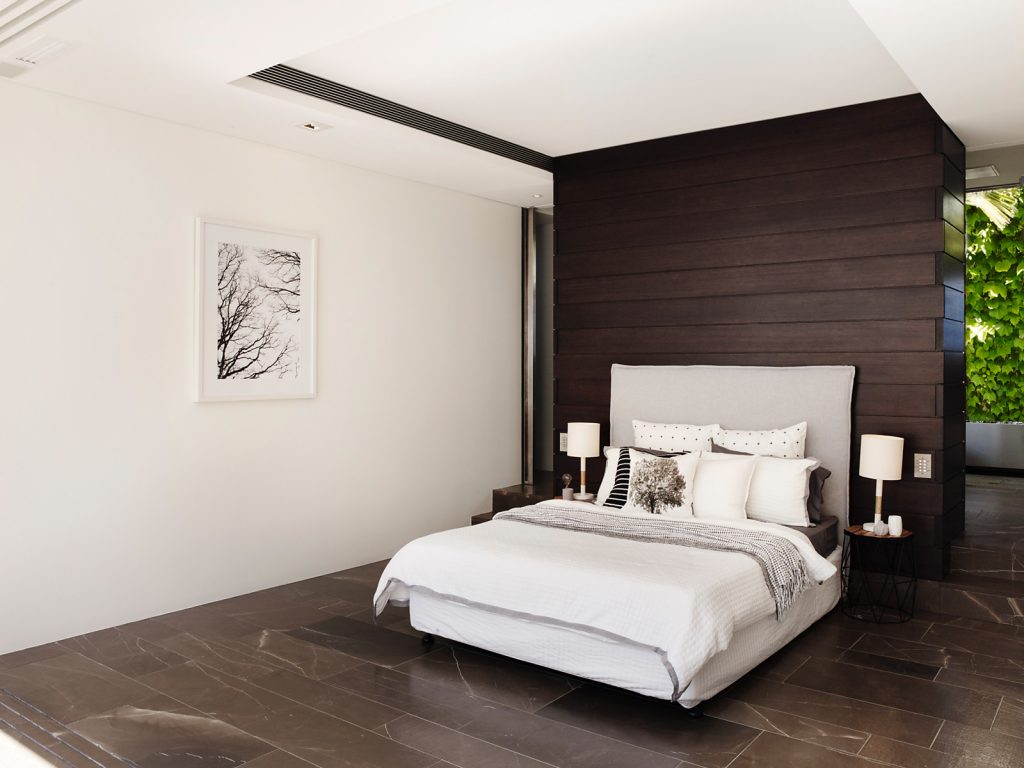 A luxurious bedroom is the perfect place to unwind and an exciting room in itself. The key is to draw inspiration from your favourite boutique hotel and approach styling with scale and proportion at the forefront of your mind.
Nothing says glamour like a glorious oversized bed. It's an investment you won't regret, so if you have the space for a king bed, it will set the tone for a refined and elegant atmosphere.
A minimal, yet sophisticated colour palette including jewel tones such as rich blues and greys create a calming master bedroom. Don't shy away from layers of cushions and throws, a silk throw has a luxurious and subtle sheen to it.  A considered combination of pattern and texture increases the visual impact without overwhelming the space. Symmetry can enhance the sophistication of the bedroom so it reflects the perfect marriage of classic style with a distinctive modern flair.
Effective lighting is the key to achieving the perfect atmosphere.  Flank your bed with matching complementary lamps and ensure the size is in proportion to the room. Finishes such as metallic, glass and brass allow the scheme to be both rich and restful. Often texture and warmth is overlooked when it comes to flooring, so if you have floorboards, add a patterned rug, cowhide or soft lamb's wool rug to the side of the bed.
A luxury interior is the perfect opportunity to make a bold statement. Opulent dark walls add a further layer of glamour to the space, while a large, simple artwork will complete the look.
CLASSIC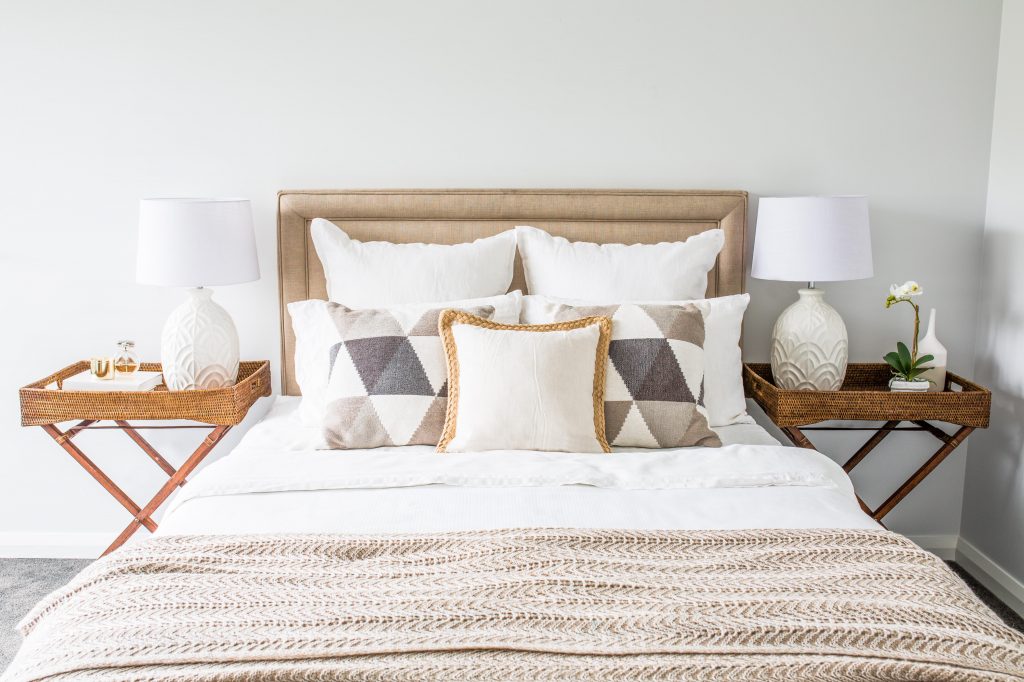 The aspiration for any bedroom should be a space that is calming and refined. White on white can create a perfect sleeping sanctuary but can also be a strong motivation to start the day. Classic styling favours a more traditional home, where the features and architectural design provide a strong presence. When choosing accessories, you should focus on quality and detail, such as white linen bedding and warm tactile wool throws. Layering and texture is at the heart of classic interiors.
Natural finishes can enhance the calming ambience. Exposed bulbs, raw wood bedside tables and sisal rugs can highlight the character of the room.  A neutral palette doesn't mean dull, so select soft and soothing hues such as white, cream and taupe to elevate the timeless appeal. Classic styling embraces a slightly formal aesthetic, so placing cushions in a symmetrical fashion provides a natural elegance.
Bedroom lighting options are extensive, so consider adding sconces over matching bedside tables to visually extend the width of the bed. The sconce was once a very traditional lighting fixture, but has recently undergone a reinvention and is the perfect addition to a classically styled space.